Just an FYI that we received everything perfectly. Many thanks for getting everything to us quickly for the photoshoot this past Sunday and to our Customer. Our Customer said she is 'obsessed' with the napkin wraps! Also, our professional photographer who was shooting both the leaf and joy napkin wraps said "I'm obsessed with photographing these napkin wraps". I said, 'what word did you use?' and she repeated it. It was the same word as my Customer. Needless to say she wants to buy all the leaf napkin wraps.
~A.b
About Tin Parade
A CELEBRATED LA WEDDING DESIGNER IS  REVOLUTIONIZING TABLETOP DECOR WORLDWIDE
Finalist in the Dallas Arts Awards - Dallas 2020
"Best New Product" Honorable Mention - NYNOW 2019
 "Best New Designs in Table Top" - G & G Goodfellows 2018
"Best New Product" Finalist - NYNOW 2018
After 18 years planning and designing some of the most talked about weddings in Los Angeles, Ryan Larson is recognized as an expert at making a tabletop sing. A passion and expertise for designing jaw dropping weddings is what led Ryan to found Tin Parade, Party-Gift-Home and launch her own line of entertaining goods.
 Ryan designs each of Tin Parade's products with a core principle: High quality. Ryan loves to note that nothing Tin Parade makes is disposable and therefore won't quickly end up in a landfill.  She is inspired by interior design, and art and holds a degree in history. It's this appreciation of the past that guides her in creating things she hopes will become family traditions year after year.  Her newest Napkin Wrap collection is no exception, combining metal, fabrics and leather into a distinct embellishment for your table setting. 
 Napkin Wraps were first debuted in Paris, which launched Tin Parade overseas with a warm international welcome. They followed with showing in Frankfurt, Germany as well and have enjoyed watching Napkin Wraps make their way around the globe.
 "I just want to keep creating special things that are unique and haven't been done to death, but still feel classic somehow. I love that the Napkin Wraps are a twist on a classic Napkin Ring but really fresh at the same time," says Ryan. 
 Having laid out some of the most beautiful table tops in the event industry, Ryan truly believes that the world of tabletop is ready to evolve with novel ideas and new traditions. That is what she is excited about every time she imagines her next collection.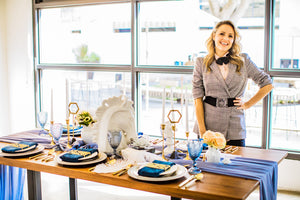 tin parade products, events, and more
Nov 3rd-Dec 23rd 2018
(our shop is closed Mon & Tues)
1427 4th St, 2nd flr. Santa Monica, CA 90401 
follow @tinparade for details